Nobody panic – but somehow it is almost 2024. As we approach the new year, we need to be turning our attention to our big picture plans for 2024 and think about the strategies and tactics that will bring us closer to our goals.
However, product managers and team leads can make mistakes with roadmaps and there are always new developments in technology and best practices to help us to stay as effective as possible and our teams aligned in future.
This is pressing, as according to Wellingtone, only 23% use a PPM or resource management software solution, with many organizations yet to benefit. Equally, 54% do not have access to real-time KPIs.
This blog will guide you through the best practices for roadmapping in 2024, how to approach your yearly plans, and the tools to pick up to help align your teams easier.
It is part one of a series Tempo is putting together to help teams of any size plan more efficiently, and let you know how tools like Roadmunk can help you visualize, organize, and stay in control of your work.
However, before we look ahead into the tools and methodologies that can improve your roadmapping and project management in the future, we need to look back to evaluate how things have gone this year, how capacity might change, and what your teams might not be telling you.
Laying the foundation for the future
So first you have to ask yourself the obvious questions before beginning your 2024 goals:
What is still ongoing from last year?
How did your last set of goals work out?
Is there a business case for making a change from your previous plans?
Coming up with a roadmap for the year is not to be done on a whim or by a single person. While it can be tempting to cover as much as you can on your own, these projects thrive on transparency and buy-in from as many relevant stakeholders as you can muster.
The right place to start, which you have likely already guessed, is to look at the big picture. Work out the "why" behind your goals, start creating themes around them, and then you can start breaking those down into actionable steps people can work from.
Just remember when you start getting granular and adding in a lot of detail – your audience will likely be seeing all this for the first time when you present this roadmap to them. That means a lot of new projects and ideas at once and you don't want to overwhelm.
Consider the level of information you are trying to display at once. Are the year-long initiatives getting lost when looking at only the next quarter? Are weekly projects getting messy and crowded when you look at your plans over the next 12 months?
If you are getting into serious detail, you might want to break it into quarters so both you and your teams can get a clear picture of how things are going to progress – after all, roadmaps are not static reminders of your plans from ages ago. They are living and working documents that track KPIs, progress, and are your best way to ensure strategy and day-to-work remain aligned.
Depending on the size of the teams you are planning for, you might also need to think about what your leads or managers are not telling you. Not out of malice or a dastardly scheme to overthrow you, but just that some details can slip under the radar.
When building out various points, whether your roadmap is just general objectives or specific tasks, remember to include the context behind your points, time frames, relevant stakeholders, and document links if possible.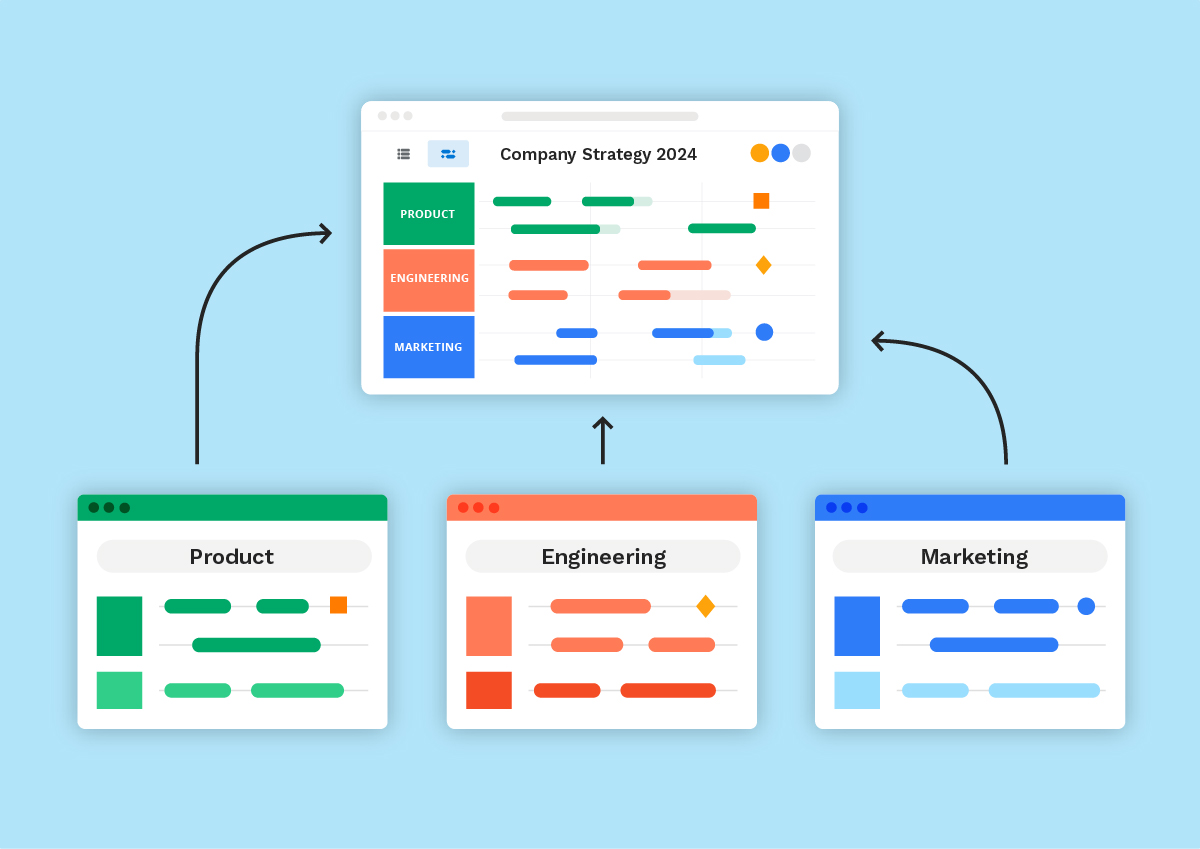 If you are just working with a small team or organization, just create one roadmap and use that as your source of information. If you have a more varied workflow, ask for PMs to create their own roadmaps and then try to roll them all together into your collective portfolio roadmap for everyone.
For a quick runthrough of how to actually get set up, take a look at this guide that we've built for doing just that in Roadmunk.
This is more important if your team is fully remote, as they are far more likely to find context and links in their day-to-day work than in-office workers who can just find someone for a quick chat without needing to message them and wait.
Key takeaways:
Remember 2023: Make sure to consider any changes to what happened with last year's plans and projects (and what is still left to do) when laying the foundations of your roadmap.
Think of remote workers: Remember that your remote teams and workers need more detail and steps so they can use it as an all-in-one working tool as they can't just walk over to a desk and ask a colleague.
Keep it clear: Break down your roadmaps into manageable chunks, like quarters, so they don't become overwhelming information dumps.
Prepare for change: Factor in new tools, methods, and stakeholder PTO into your timeframes as much as you can. New tools take a while to adapt to, but then can really start to speed up later in the year.
Always refer back to your core plans for business success: Always keep the "why" in mind with every issue or block that is being added.
Achieving alignment
Roadmaps are a collaboration and communication tool – so if its job is to keep everyone on the same page, you need to make sure everyone is aligned with what is actually going on.
Your first move is to make sure everyone knows that you are making a roadmap, understands how to use it, and informs you about planned tasks and timeframes. Even if you are the one telling people about plans long into the future, no-one knows how long work will take better than the people doing that work.
The more people feel like they were involved and that this roadmap is theirs, the more likely they will be to actually use it and it will serve its purpose to keep people aligned and informed.
One of the first differences between using a dedicated roadmapping tool like Roadmunk and spreadsheets or a text document is having real-time URL sharing options customizable for different stakeholders. This means you can have different views and accessibility options for customers, stakeholders, and team leaders all within the same roadmap.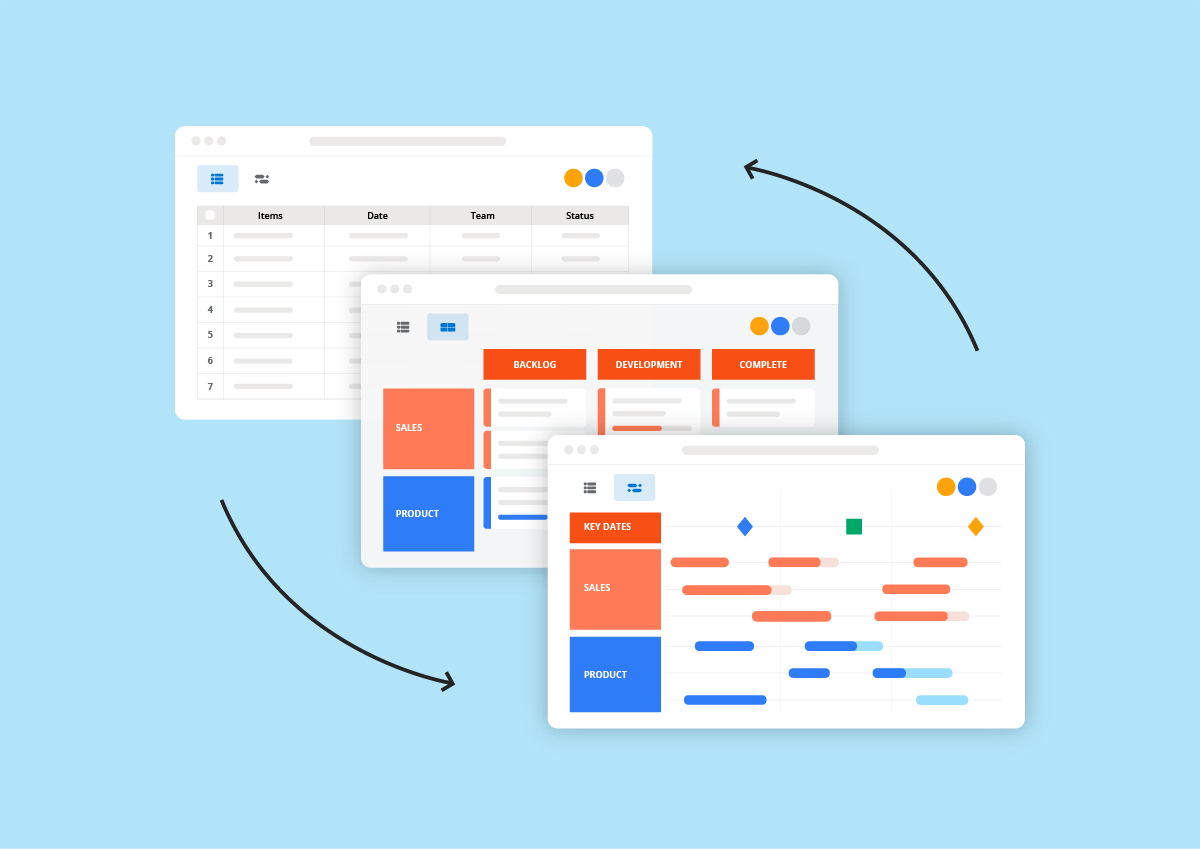 There are plenty of options for presenting data for different audiences, and the most common splits you'll see is breaking things down between swimlane or timelines. Swimlane organizes by progress, and timeline will sort things by when they need to be finished.
Different views can work better depending on what you are working with, so if you want to see some templates and examples of the two in action, you can see some here in Roadmunk.
This is also where integrations come into play if your teams are working within Jira, Azure DevOps or other software like Trello, Asana, Shortcut, GitHub, and GitLab.
It can be a needless headache to do double data entry for every single task and go back and forth between everything. This is where Tempo's tools like Roadmunk come in again to save teams time and a lot of energy if you aren't using dedicated roadmapping tools.
It can also sync up to calendars so stakeholders can see when they need to start sweating to reach their goals or what other teams are currently working on during a certain timeframe.
Just remember at all times that this roadmap you are creating isn't just a signpost. It can be everything from a day-to-day working tool, a reminder of what jobs are up next, and a way to prioritize and understand work and the work of other teams.
That means the priority is accessibility and understanding for all types of roadmaps – yearly, quarterly, feature-based or anything. While having an incredible array of features all built into the roadmap can be impressive, to get people actually using it for its intended purpose it has to be something you can grasp at a glance.

If you would like to see an example of how to communicate features or changes to customers, take a look at our very own roadmap for upcoming changes to Roadmunk – made in Roadmunk.
Key takeaways:
Communication is key: Make sure everyone knows about the roadmap, how to use it, and is given a platform to discuss their tasks and timeframes.
Ownership equals use: People are more likely to actively use the roadmap if they feel a sense of ownership over it and were involved in its creation.
Leverage real-time URL sharing: Tools like Roadmunk offer real-time URL sharing, letting you customize views and accessibility for various stakeholders – customers, team leaders, etc.
Integrate, don't duplicate: Save time and reduce headaches by integrating your roadmap with project management tools like Jira, Azure DevOps, or Trello. This way you can avoid redundant data entry.
Keep it simple and accessible: Your roadmap should be easy to understand, regardless of its complexity. Prioritize ease of use and clarity so that it fulfills its intended purpose.
Maintaining success
According to a survey from PMI, the primary cause of failure in a project was a lack of clearly defined objectives and milestones to measure progress (37%). The second most reported issue? Failures in communication (19%).
The first of these problems is something good roadmapping at the early stages can help you overcome if you follow the point up ahead. However, alignment and collaboration isn't something achieved just by getting it right at the very beginning.
Once you've gathered information from your stakeholders, created an accessible roadmap for your teams, and shared it with those that need it – it still needs to be maintained.
Thankfully, with real-time data integrations and automation, this doesn't take much work as your roadmaps will update with progress from your teams. However, that doesn't mean you don't need to check in with timeframes, update for when new projects come in, and make sure that everything is still working for everyone.
It isn't easy, but you have to hold yourself accountable for keeping a big scope project – like a yearly roadmap – something that is still usable and useful after six months of madness and priorities moving around. If you come back to your 2023 schedule and see that none of the timeframes were close and it stopped accurately mapping your working world around June, then it wasn't fulfilling its intended role.
With the proper attention and the right approach at the start, a roadmap can be your team's key tool for success in both the short and long term. It can be a source of information, a communication tool, and a way to keep everyone aligned with the company's bigger picture.
Key takeaways:
A definite problem: Lack of ways to track progress and defining objectives is one of the key reasons why projects fail.
Stay in the loop: Speak with your stakeholders to see if they use your roadmaps and, if not, why they lost their usefulness.
Keep everything on track: Check if timeframes and projects are still aligned by speaking with your workmates frequently.
Roadmaps are living tools: Keep them updated and aligned with reality or they will just become reminders of your plans in the past.
AI is OK: Automation and integration can save you a lot of time and hassle to keep your roadmaps updated and relevant for your stakeholders.
Try a demo
Ready to give roadmapping a try yourself? If you are one of that 77% that aren't using project management tools, why not see how it could shape up for you teams and projects with Tempo's tool for roadmapping and idea management: Roadmunk. We've got dozens of templates and intuitive features to help even the newest initiate to roadmapping create something genuinely useful in just minutes – and you can try it out for free.